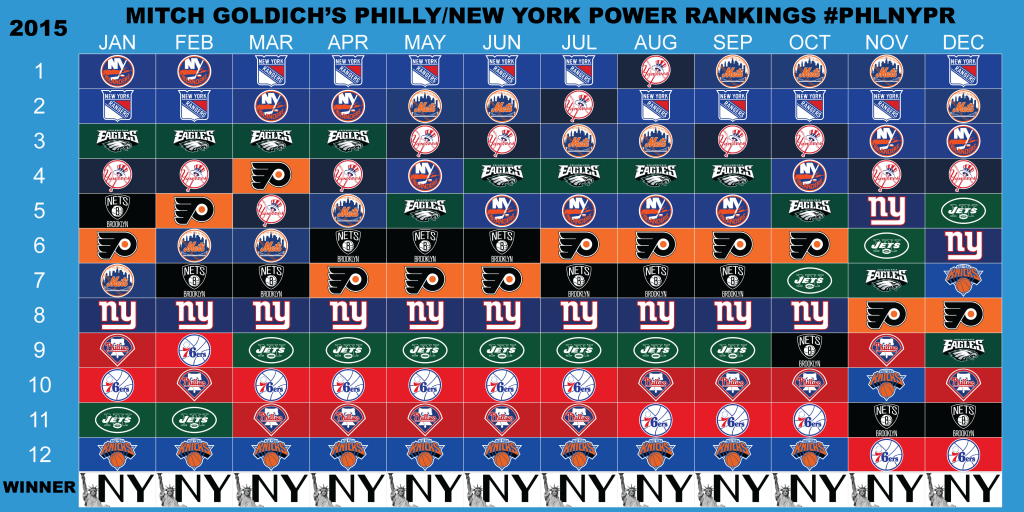 It's a big day for my little passion project—the PHLNYPR finally has a home.
The PHLNYPR, many of you probably don't know, is a… thing… I've been doing on Twitter since September 2012. It stands for Philly/New York Power Rankings.
On the first day of every month, I rank all 12 pro sports teams from Philly and New York in the four major sports leagues. Rankings are based on recent performance, likelihood of winning a championship and general trends, vibes and projections. Think of it as a measurement of the overall state of each franchise.
I also declare one city as the winner each month. Generally speaking, which city would you rather be a fan from?
I'm not totally sure why I started doing this—but probably because I was having a conversation with somebody about which city you'd rather be a fan from, and definitely because I just like power rankings.
For the last 40 months, the exercise has taken place only on Twitter. Now I have fancy graphics and a page for it on my website. I'll still share links from my Twitter account and my Facebook page, but you can also just come to the site and find it in the navigation at the top.
It's just a silly little project, but I'm still pretty excited to ring in 2016 with some new bells and whistles. Truthfully, the PHLNYPR has not been as well-received as I probably hoped it would when I started.
I think much of the reason is because it was done on Twitter. Beyond the obvious that not everybody is on Twitter, it also took up a lot of characters, usually resulting in a series of four or five tweets explaining it.
But that's OK. I was never doing it only to generate interest from other people. Like any passion project, the main reason for doing this is simply because I enjoy it.  That has to be the only explanation for why I kept cranking out the PHLNYPR month after month.
But maybe (hopefully?) creating the graphics and having them on my site will give this project a second wind. And maybe (hopefully?) it could turn into something that more than just a handful of people look forward to, and that generates more than just a handful of inconsistent responses.
But if not, maybe I'll power through another 40 months anyway.
In the meantime, thanks for at least reading a 470-word blog post about it.
Many thanks to my friend Marc Sweet for doing the design work. He put in a lot of time, and I'm really happy with how it turned out. Check out his website and buy some of his really great art and photography.
Then come back to my website at least once a month to see the new PHLNYPR.