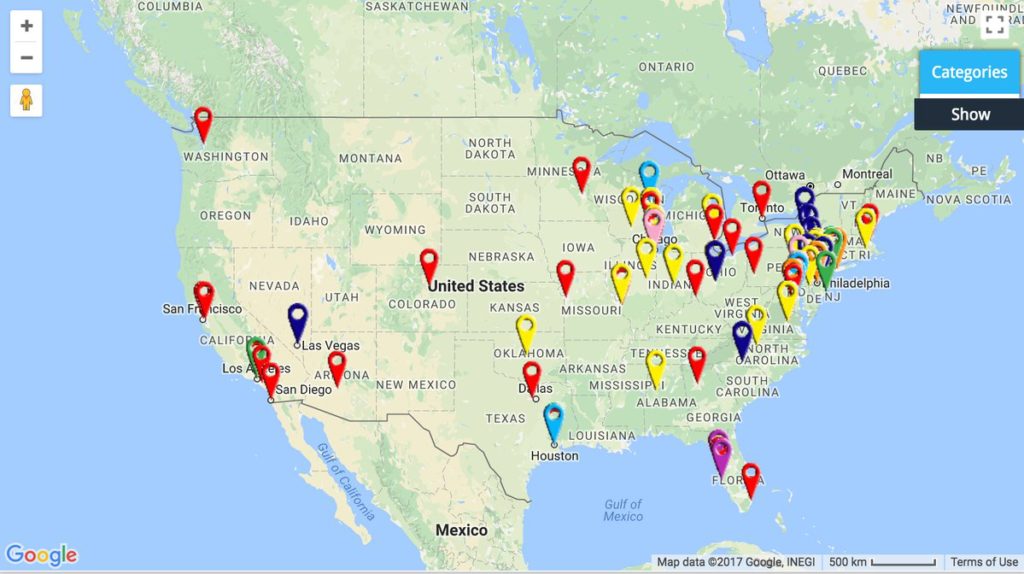 Yesterday I unveiled my map.  At least I finally put it online.  In my apartment I have the real map, a giant one on a corkboard where I have pins in all the places I've been.  As a geography nerd who has spent the last 20 years pretty obsessed with sports travel, it's become one of my favorite possessions.  I've wanted to move it online for a while now and I finally did yesterday.  The stadiums and arenas are color coded by different sport, and I like it almost as much as the one on my wall.
As I was putting all the info online, I was thinking about the many games I've been to—some very good, some very bad.  I'm lucky that a lot of them have been incredibly good (or else… maybe I would have stopped going to so many?), and I'm probably pretty spoiled by my list.  I figured no self-indulgent map was complete without a self-indulgent blog post. So here is a ranking of the 10 best sporting events I've seen in person.
Honorable Mention:
I mentioned I've been spoiled, right?  Here are some that didn't make the Top 10.
March 1, 2014, Blackhawks 5, Penguins 1 outdoors at Soldier Field.  This game was played in snow, at times heavy snow, an unreal experience.  You had to chug your beers because they would fill with an inch of fresh powder.  It was a night game, the home team kept scoring and the fans kept partying.
November 1, 2009, Vikings 38, Packers 26 @ Green Bay.  This was Brett Favre's first game as a visitor at Lambeau Field, offering absurd theater outside the stadium and in the stands.
January 24, 2010, Colts 30, Jets 17 @ Indianapolis.  Peyton Manning was surgical leading a comeback win against Mark Sanchez's Jets in the AFC Title Game.
November 22, 2014: Lafayette 27, Lehigh 7 @ Yankee Stadium.  The 150th meeting of college football's most-played rivalry was a meaningful game to Lehigh fans.  Here's what I wrote for the New York Times before the game. This would have easily cracked the list if Lehigh hadn't gotten blown out.  Let's just pretend this one didn't happen.
March 23, 2014: Kentucky 78, Wichita State 76 @ St. Louis.  8-seed Kentucky handed 35-0 1-seed Wichita State its first loss of the season.  There was a ton of debate about the seedings, and this totally lived up as one of the games of the tournament.  Kentucky survived an errant buzzer-beater attempt and went to the title game.
10) October 26, 2016, Thunder 103, Sixers 97, @ Philadelphia, PA
Opening Night of the 2016-17 season was also Joel Embiid's career debut in a nationally televised game.  This was an insane game at the time, a pro-Hinkie Process-Trusters coming out party before we even knew what anything would look like on the court.  Embiid was awesome, which just felt so important.  I'm sort of banking on this game growing in stature over time if his career plays out the way Philadelphia is hoping.
I attended this game with a credential for Sports Illustrated and wrote this.
Bonus points because it was the game when a fan flipped off Russell Westbrook and he made this immortal face.
9) October 19, 2003, Eagles 14, Giants 10 @ East Rutherford, NJ
This game was actually pretty crappy.  The Eagles scored a first-quarter touchdown and then mustered almost no more offense.  Donovan McNabb was 9-for-23 for 64 yards.  The Eagles were losing, and in danger of falling to 2-4 after two straight appearances in the NFC Championship Game.  But with 1:34 left in the game, Brian Westbrook returned a punt 84 yards for a touchdown that likely saved the Eagles' season.  After three hours of sitting quietly and getting heckled, all the Eagles fans in the upper deck went bonkers.  Sometimes one good play can make a game.
This game was lovingly dubbed Miracle at the Meadowlands II (with III to come a few years later) and the punt return will played forever in any all-time Eagles highlight package.
8) September 30, 2007, Phillies 6, Nationals 1 @ Philadelphia, PA
The Phillies won a lot of big games from 2007-2011, but the final day of the 2007 regular season should never be forgotten.  The Phillies hadn't been to the playoffs since 1993, and had been 7 games behind the Mets with 17 games to play, but they stormed all the way back.
This was a crazy Sunday afternoon.  The Mets fell behind the Marlins 7-0 in the first inning, with Tom Glavine on the mound, before the Phillies even started.  Phillies fans saw that on the scoreboard and cheered, then the Phils jumped ahead early and the stadium hosted a three-hour victory party.  Jimmy Rollins hit his 20th triple of the season, cementing his MVP campaign by joining the 20-20-20-20 club for doubles, triples, homers and steals.
The Phillies were ultimately swept in the Wild Card series, but this game helped turn things around for the franchise and lead to another game a little later on this list.
7) May 20, 2001, Sixers 88, Raptors 87, Eastern Conference Semifinals Game 7 @ Philadelphia, PA
This was the culmination of an incredible series in which Allen Iverson and Vince Carter were at their absolute peaks and traded 50-point games.  I went to all four games in Philly that series, obviously ending with this one.  Vince famously attended his UNC graduation that morning, then flew to Philly and bricked a buzzer-beater that would have won it.  AI played 48 minutes and dished out 16 assists.
It's amazing how much that one moment impacts the overall appraisal of Iverson's career.  Of course he never won a title, and this run to the Finals was actually his only trip to the Eastern Conference Finals.  But that Eastern Conference title, and the Game 1 win in OT against the Lakers are the obvious high-water mark of his rollercoaster career.  He won four scoring titles and an MVP, but today's "Rings Culture" would have ripped him if Vince Carter's buzzer-beater meant he never even got out of the second round.
I can still remember that moment the ball hung in the air, and I'll never forget it.
6) August 18, 2008, 4×100 medley relay, @ Beijing, China
This is a hard one to rank, because it's probably first or second on my list if they were ranked by most historic.  I was in the Water Cube in Beijing the day Michael Phelps won his eighth gold medal of 2008, breaking Mark Spitz's record for a single Olympics.
Phelps ran the third leg, and his butterfly brought USA from behind and into the lead.  This was nowhere near as dramatic as the seventh gold medal, which is the much more famous one.  But it was still very cool to be there and to see the American flag go up and hear the anthem played.  It was a unique experience that I'm lucky to have had halfway around the world.
5) November 15, 2010, Eagles 59, Redskins 28, Monday Night Football @ Washington DC
This is, I am not exaggerating, one of the best games an NFL quarterback has ever played.  On the first play from scrimmage, Michael Vick hit DeSean Jackson for an 88-yard touchdown pass and things escalated from there.  Vick had six total TDs (four rushing, two passing) and the Eagles led 35-0 after the first play of the second quarter.  I am not kidding when I say that Redskins fans were leaving the game in the first quarter because it was so out of hand.  This was just a stunning display from the Eagles.
When ESPN announced QBR as a new stat, the third paragraph mentioned that Vick's game had the highest score ever.  As if to say, "Don't worry, our stat is good, it knows the Vick game was the best."
I watched this game from the upper deck in Washington.  The Redskins announced a five-year contract for Donovan McNabb earlier that day and the trash talk attempts from Washington fans were pretty futile.
4) April 5, 2010: Duke 61, Butler 59, NCAA Championship Game @ Indianapolis, IN
It was kind of a fluke that I ended up at this game.  I was traveling through Indianapolis for work and a friend had a free ticket.  Our seats were literally in the last row of the upper deck, where we could touch the ceiling of a gigantic football dome way too big to host a basketball game.  We eventually moved down within the upper deck and had a good view from the same side of the court where Gordon Hayward released his half-court shot that was nearly the coolest play in basketball history.
3) February 5, 2017: Patriots 34, Falcons 28, Super Bowl LI @ Houston, TX
OK, I'm very lucky.  My first Super Bowl was probably the best one ever played.  I spent a week in Houston credentialed by Sports Illustrated and spent the whole game walking around the concourse shooting video and posting to SI's Snapchat and Instagram accounts.  Things were fun but actually a little boring as the Patriots fell behind 28-3.
In the fourth quarter I stood down in the lower level behind the Patriots' end zone, surrounded by a mob of Pats fans with an incredible view of the game-tying TD and 2-point conversion.  The winning TD in overtime was on the other end of the field, but the scene around me was equally nuts.
The scene inside NRG Stadium pic.twitter.com/d0HmMF7X8s

— Sports Illustrated (@SInow) February 6, 2017
2) October 27-29, 2008: Phillies 4, Rays 3, World Series Game 5 @ Philadelphia, PA
I acknowledge I'm a gigantic homer for putting my hometown team's World Series title ahead of maybe the best Super Bowl ever.  But at least this was a historically weird game—5.5 innings played in a driving rain storm that affected play on the field, followed by a 48 hour delay, concluding with everyone showing up in the same exact seats to watch 3 innings of championship-clinching baseball.
Beyond the game itself, this is one of the most fun nights of my entire life after you factor in Geoff Jenkins spraying champagne on me, the celebrations down Broad Street and the 5 a.m. cheesesteaks.  The first time any of my teams won a championship will always be special.  So it may be a surprise to see this at No. 2, but I can explain.
1) March, 16 2012: (15) Lehigh 75, (2) Duke 70, NCAA tournament @ Greensboro, NC
Seeing the Phillies win the World Series was the most satisfying experience of my life as a sports fan.  Seeing my alma mater Lehigh go down to Carolina as a 15-seed to upset Duke was the most thrilling.  The Phillies' World Series was the culmination of years following the team, hoping it could build to that exact moment.  Lehigh's win over Duke was a thing that just popped up out of nowhere because I had barely even considered it could happen.
Put it this way: One win was like putting a tiny amount of money into a piggy bank every day and eventually hitting a goal of $10,000.  The other was like putting on a brand new pair of pants and finding a $10,000 bill in the pocket.  Which story would you tell forever?
In 2012 I lived in Richmond, Virginia and drove three hours [each way] round trip alone in one night to watch this game.  C.J. McCollum scored 30 points and was the biggest star on the court against a Duke team with four future NBA players.  Lehigh controlled the game the entire second half but Duke made it extremely tense at the end.
I wrote about this game at the time.  I participated in a video looking back at the 5 year anniversary.  And I was captured on camera looked like an idiot immediately after the game ended.  I could live a long time and maybe never top this one.
Like my Facebook page to catch all my writing and podcast episodes