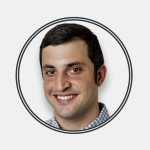 Mitch Goldich is a sports writer, podcaster, video journalist and a social media producer for Sports Illustrated.
Goldich earned a master's degree in journalism from the Medill School at Northwestern University in 2014. He completed the video/broadcast concentration and was a member of the Sports Immersion Program. He also earned an undergraduate journalism degree from Lehigh University in 2009.
During the 2016 Rio Olympics, Goldich co-hosted a daily podcast on the Sports Illustrated At The Games channel that peaked at No. 6 in the iTunes sports podcast rankings. He has also produced and co-hosted Audibles, one of SI's NFL podcasts.
In 2012, Goldich was a web producer for NBC Olympics during the London Games. Before joining SI, he also had work published by The New York Times, Baseball Prospectus, The Huffington Post and espnW. He has done freelance production work for FOX Sports on-site during NFL and MLB broadcasts, and freelance filming and interviewing for USA Today during the Big Ten Football Media Days.
Goldich is an avid sports traveler. He's been to the Super Bowl, World Series, NBA Finals, Final Four, Beijing Olympics, 35 different MLB stadiums, 11 NBA arenas, 10 NFL stadiums and even a sumo wrestling match at Madison Square Garden. You can see all those stadiums on his map.
Follow him on Twitter at @mitchgoldich.
Like his writer page on Facebook.
Follow him on Instagram at @mitchgoldich.
Subscribe to The Mitch Goldich Podcast, where he talks to members of the sports media.
Subscribe to Mitch Eats Food, his podcast about food.