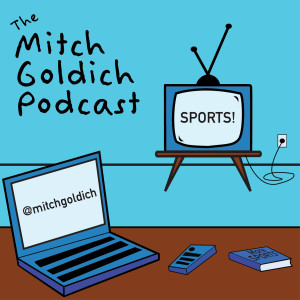 In a special bonus episode, Jeff Chiucchi and I do our annual 1-on-1 fantasy baseball draft for a league unlike any you've likely heard of. This league, entering its eighth season, has just two opponents. Each team consists of 25 players, mimicking a real MLB roster (including a backup catcher who must be an actual backup catcher), with 65 stats that range from traditional fantasy stats to game-winning RBIs, pitches per plate appearance, outfield assists and total pitches thrown. You also can't make any roster changes the entire season after the draft.
We explained the league itself and some of its quirks, then had a wandering baseball conversation throughout the draft that touched on Drake LaRoche, valuable middle relief pitchers, how much Jose Abreu will play DH, trying to guess what team Steve Cishek is on and more.
This is very different from a typical episode of The Mitch Goldich Podcast, in which I normally chat with members of the sports media about their careers. You can subscribe below or check out the podcasts tab on this site to listen to more typical episodes. You should also let me know if you enjoy this, because I could continue posting bonus tracks if people find them fun.
Subscribe to The Mitch Goldich Podcast in iTunes
Like my Facebook page to catch all my writing and podcast episodes