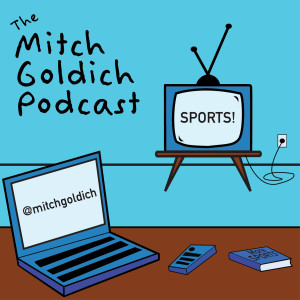 In Episode 11 of The Mitch Goldich Podcast, my guest was Ben Lindbergh.
Ben is a writer for The Ringer, covering mostly baseball, but also topics like movies, television, video games and more.
Ben explained how he manages to cover baseball while also finding time to follow his many other hobbies. He also talked about how he writes about baseball, comes up with ideas for new articles and finds time to co-host three different podcasts. Ben also spoke about the baseball book he co-wrote earlier in 2016, and what he learned from his year co-managing an independent league baseball team.
If you enjoy the podcast, please consider taking a minute to give it a rating and a review on iTunes. It helps other people find my podcast and I really appreciate it.
Subscribe to The Mitch Goldich Podcast in iTunes
Listen to The Mitch Goldich Podcast on SoundCloud
Like my Facebook page to catch all my writing and podcast episodes