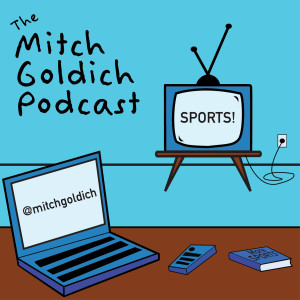 In Episode 12 of The Mitch Goldich Podcast, my guest was Tom McCarthy.
T-Mac is the Philadelphia Phillies' lead TV play-by-plan man, and he also calls NFL and college basketball for TV and radio.
Tom talked about calling the great Packers/Cowboys game in the divisional round of the playoffs the week before, how he juggles multiple sports and prepares for games, how much he listens to his old broadcasts to improve and what it's like when a coach calls a timeout that ices the broadcaster.
We also talked about getting his job with the Phillies, becoming the successor to the beloved Harry Kalas after he passed away, interacting regularly with Phillies players and the many color men he's worked with over the last few years.
If you enjoy the podcast, please consider taking a minute to give it a rating and a review on iTunes. It helps other people find my podcast and I really appreciate it.
Subscribe to The Mitch Goldich Podcast in iTunes
Listen to The Mitch Goldich Podcast on SoundCloud
Like my Facebook page to catch all my writing and podcast episodes