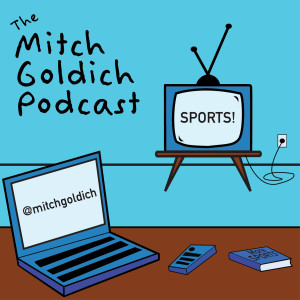 In Episode 14 of The Mitch Goldich Podcast, my guest was Derek Bodner.
Derek has covered the Sixers for five years and recently adopted a model of subscription-based independent coverage on his own website.
He talked about working the Sixers beat from analyzing games to developing sources and breaking news. He discussed how he balances his time to cover the Sixers, write stories on other teams in the league and scout top NBA prospects for DraftExpress.com.
Derek also talked about getting to know Sam Hinkie in a way most of the public didn't get to see him by speaking to Hinkie on background when he was still the Sixers' GM. Plus Derek explains how things are different under Bryan Colangelo. Finally, Derek gives his opinion on how the Sixers should approach various possible draft positions.
If you enjoy the podcast, please consider taking a minute to give it a rating and a review on iTunes. It helps other people find my podcast and I really appreciate it.
Subscribe to The Mitch Goldich Podcast in iTunes
Listen to The Mitch Goldich Podcast on SoundCloud
Like my Facebook page to catch all my writing and podcast episodes