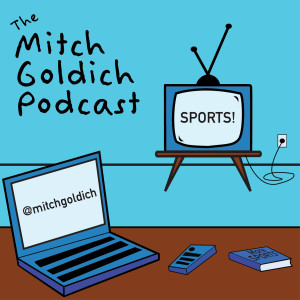 In Episode 7 of The Mitch Goldich Podcast, my guest was Michael Levin.
Michael is a writer for Liberty Ballers, SB Nation's Philadelphia 76ers blog, and co-host of The Rights To Ricky Sanchez podcast. He also organized The Rights To Ricky Sanchez NBA Draft Lottery party with about 2,000 Sixers fans that received national media attention.
We discussed The Process, and what it's been like being a Sam Hinkie supporting fan, blogger and podcaster over the last three seasons. He talked about the attention his blog and podcast have received, and what he dislikes about how the national media has portrayed the Sixers and their fans.
We also talked about the internal conflict of wanting to root for the team, despite being unhappy with ownership and management.
Plus we touched on the future of the Sixers and Michael shared what he would do if he was the team's GM this offseason.
If you enjoy the podcast, please consider taking a minute to give it a rating and a review on iTunes.
Subscribe to The Mitch Goldich Podcast in iTunes
Like my Facebook page to catch all my writing and podcast episodes